Google Confirm That The Removal Of Sidebar Ads Which Has Been Rolled Out Over The Last Couple Of Weeks Is In Fact Permanent
"We've been testing this layout for a long time, so some people might see it on a very small number of commercial queries. We'll continue to make tweaks, but this is designed for highly commercial queries where the layout is able to provide more relevant results for people searching and better performance for advertisers. This change is global and impacts all languages."
From now on we will only see a maximum of 4 ads above the organic search results, none in the sidebar (except PLA) and 2 or 3 below. Meaning that according to the laws of supply and demand cost per click is most likely going to increase for many advertisers particularly those in high competition industries.
Previously, there were more than 10 ad slots on the first page of Google, now we have just six or seven. This change comes just a few months after Google reduced the amount of available slots in the local business results.
According to a spokesperson from Google "Product Listing Ads – PLA will be the only ads which will show in the sidebar".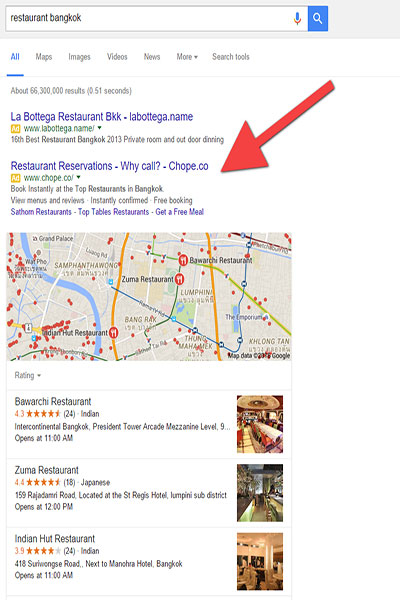 How To Stop Your Cost Per Click From Rising Too Much
Remember Google's ultimate aim
To provide the best possible answers to a user's search query
If you have been running your Adwords campaigns with little concern for metrics like  CTR and Quality Score, now is the time to re-evaluate the goals of your advertising and start optimising your campaigns for relevance.
A good rule of thumb is that all of the keyword phrases in your Adgroups should have at least two words in common, so for example if you are targeting 'restaurants in Michigan' your keywords should look something like:
Top restaurants in Michigan
Restarants in Michigan
Michigan restaurants
Best Restaurants Michigan
Try to keep your ad groups as tight as possible and make use of the search terms tab on a regular basis to find the exact keywords which are generating impressions of your ads. You can add both positive and negative keywords to your ad groups directly from the search terms tab.
Quality score is now more important than ever as Google ranks ads based on their quality score, max CPC and expected CTR – in previous times, not paying attention to quality score meant that you would pay a higher cost per click. You now risk not even making it onto the first page of the search results or paying a massively inflated cost per click just to appear at the bottom of page one.
Make more use of features like retargeting people who leave your website without converting. Bring them back to a page which is specifically designed to solve the issues which made them leave your website.
Use Adwords to help push your web traffic into a sales funnel and aim to gather as much information as possible from each visitor so you can target them based on their specific interests.
Always remember that each Adwords campaign which you run should have it's own business goals that make up part of your overall goal.
Is This Google's Way Of Making People Run Better Campaigns?
The short answer to this is, I'm not sure – all indications point to the fact that Google are now demanding higher standards from their advertisers if they want their ads to be shown on the first page.
Anyone who is running Adwords campaigns purely to drive large amounts of search traffic to a site with little consideration for return on investment seriously needs to consider improving their game! – GP.
Is This The End Of Search Ads For Branding?
Many advertisers know that having an organic search result and a paid search result both on page one of Google can increase the CTR on the organic search result by up to 20%. This has always enabled advertisers to 'bid down' on their paid result and let it float around half way down on the side bar ads for the purpose of gaining a higher CTR on their organic result. It seems like these days are over, and it will be interesting to see how this develops over the coming months.
What effect will this change have on SME's?
This change could easily diversify organic and paid results massively as many small to medium businesses who are already ranking well organically may decide that it is not necessary for them to compete heavily for paid search results when these just make up a small proportion of their overall traffic.
However, in some industries I'm predicting that we may see smaller companies being pushed out of the paid search results all together as they are unable to compete on budget with larger brands.
What Will Google Do Next?
So, in the last 9 months we have seen Google reduce the amount of local business slots on the first page to just three. Adwords sidebar ads have been removed, are we going to end up with a reduced amount of organic page one places? Could this be the next step, we are already seeing a mix of result types on the home page, and is this recent change yet another sign that marketers shouldn't put all of their eggs into the Google basket?
Please let me know your thoughts in the comments below or if you need professional support please visit our page on Adwords management.